All you need to know about Diesel Exhaust Fluid Dubai (DEF)
Diesel engines' great power and fuel efficiency have made them an essential component of the transportation industry. But they also release dangerous pollutants including nitrogen oxides (NOx) and particulate matter (PM), which can irritate the airways and contribute to the production of smog. In many parts of the world, including Dubai, the use of Diesel Exhaust Fluid (DEF) is now required to reduce these problems.
DEF is a non-toxic, colourless fluid that contains 67.5% deionized water and 32.5% high-purity urea. In diesel automobiles using selective catalytic reduction (SCR) technology, DEF is pumped into the exhaust system, where it reacts with NOx to create harmless nitrogen gas and water vapour. DEF is stored in a separate tank on the vehicle, and its usage is normally between two and three percent of diesel fuel consumption.

There are several possibilities available to you if you're in Dubai and searching for a dependable Diesel Exhaust Fluid supplier and producer. Blue Middle East is the best in the trade.
The best diesel exhaust fluid supplier
Blue Middle East is the Leading diesel exhaust fluid manufacturer and supplier in Dubai, which offers premium goods that are necessary for diesel engines. Diesel exhaust fluid is necessary for diesel engines, which are frequently found in trucks, buses, and construction machinery to reduce harmful emissions and improve fuel efficiency.
Blue Middle East is aware of the significance of using diesel exhaust fluid to maintain the efficiency and smooth operation of diesel engines. Our Drive Blue diesel exhaust fluid is produced to the highest industry standards using premium urea and filtered water. We take pleasure in offering the greatest goods and services to our clients and are dedicated to making sure they are happy with every purchase.
Drive Blue Diesel exhaust fluid in the colour Aqua Blue is one of our best-selling items. This premium diesel exhaust fluid is perfect for trucks, buses, and other vehicles that need diesel engine fluid because it was specifically created for use in diesel engines. Pure urea and water are used to create Drive Blue Diesel Exhaust Fluid, which is meticulously designed to adhere to the strict industry standards for diesel exhaust fluid.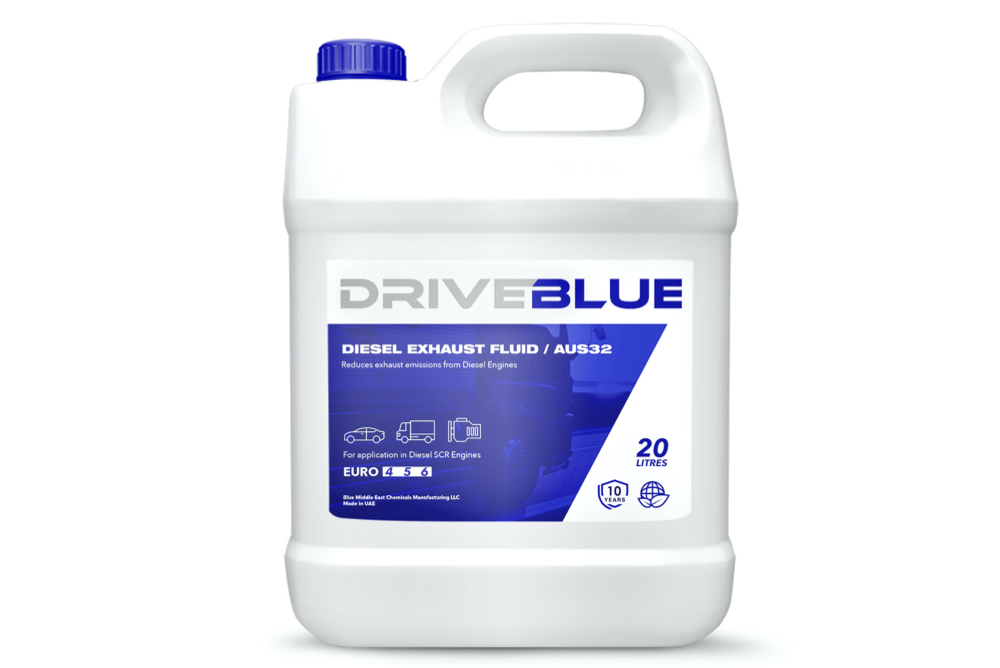 Small bottles to huge tanks of our Drive Blue Diesel Exhaust Fluid are available, making it simple for consumers to get the precise amount of diesel exhaust fluid they require. For the convenience of our customers, we now provide a variety of delivery choices, including delivery to your doorstep.
We provide a variety of additional diesel engine fluids and products in addition to Drive Blue Diesel Exhaust Fluid. Our diesel truck engine coolant Dubai is a crucial part of any maintenance programme for diesel engines because it was specifically created to help keep diesel engines operating smoothly and efficiently. We also provide a variety of additional diesel engine items, such as diesel fuel additives, diesel engine oil, and more.
You need to look no further than Blue Middle East if you're seeking a trustworthy supplier of diesel exhaust fluid in Dubai. We are the ideal option for all of your diesel engine fluid needs due to our high-quality goods, affordable prices, and first-rate customer service.
Get in touch with us right away to learn more about our goods and services and to get Drive Blue Diesel Exhaust Fluid and other items for diesel engines. Contact Us.
FAQs (Frequently Asked Questions)
What is Diesel Exhaust Fluid?
Diesel Exhaust Fluid also known as DEF or AUS 32, is a transparent mixture of demineralized water and SCR-grade Urea (32.5%). To meet more stringent emission requirements, it is intended to convert harmful nitrogen oxide (NOx) emissions from diesel automobiles to non-hazardous gas.
How does Diesel Exhaust Fluid work?
DEF is used by advanced diesel automobiles to meet emission requirements. This also holds for a variety of passenger car models in addition to trucks, large commercial vehicles, ships, and tractors.
Does Diesel Exhaust Fluid affect fuel consumption?
In general, consumption should range from 4% to 8% of fuel use. In other words, for every 100 gallons of diesel, you will consume around 6 litres of DEF. As a result, you'll fill your DEF tank less regularly than your fuel tank.
What is Diesel Exhaust Fluid made of?
To reduce the amount of toxic gases emitted into the atmosphere, Diesel Exhaust Fluid is used in automobiles with Selective Catalytic Reduction (SCR) technology. De-mineralized water and high-purity synthetically produced Urea is dissolved at a 32.5% concentration to produce DEF. The fluid is suitable for use and it is non hazardous and non flammable.
Where to buy Drive Blue Diesel Exhaust Fluid?
It's critical to use premium quality Diesel Exhaust Fluid for your SCR system to operate efficiently. DEF is available at Blue ME in container sizes of 5L, 10L, and 1000L that adhere to ISO 22241. In this market, Blue ME has been a pioneer. Concerning the selection of DEF and DEF equipment, we have collaborated with and assisted numerous retailers, distributors, and fleets of all sizes. Contact us to Know more!
Can I refill Diesel Exhaust Fluid myself?
Yes, you may refill yourself with DEF. Standard DEF cans in 5L and 10L sizes are available at Blue ME sales points. Additionally, Blue ME is gradually installing unique pumps for light vehicles. Never refuel a big cargo vehicle using a pump. Light vehicle tanks are not at all suitable for the high flow rate of these pumps.
I have a DEF warning light. What should I do?
This is a necessary component of the system, not a flaw. Before the car can be restarted, if this level is reached, the tank will need to be fully refilled. DEF lighting warns you informing that you must refuel DEF in your tank. Be warned that you have a range of 2,400 kilometres when it activates. Please be aware that for the light to turn off, the tank must be filled with at least 4 litres of DEF. How to use? DEF should not be added directly to diesel tanks of your vehicle. It should be specifically filled in an Adblue tank.